LS Opportunity Fund (LSOFX) Celebrates 5-Years with Sub-Advisor and Receives 5-Stars from Morningstar®
The LS Opportunity Fund (Institutional Class: LSOFX) receives an Overall rating of '5 Stars' from Morningstar® for the period ending 5/31/20 out of 187 funds in the US Fund Long-Short Equity category based on risk-adjusted return. The Fund received a 4-star rating for the 3-year period and a 5-star rating for the 5-year period out of 187 and 145 funds, respectively.
"We are honored to receive the 5-star Morningstar® rating," says Matthew West, CEO of Long Short Advisors, LLC (Advisor to the Fund). "This recognition evidences the consistent investment process of the entire Prospector Partners team as they continue their 23-year plus legacy of successfully managing long-short equity portfolios," he concluded.
Long Short Advisors is also excited to celebrate our 5-year anniversary of bringing Prospector Partners on as sub-advisor to the LS Opportunity Fund. Prospector Partners, LLC has been operating a traditional hedge fund with a similar investment objective since 1997, bringing with them a proven track record of managing through bull and bear markets.
On 5/31/2015, Prospector Partners, LLC ("Prospector") became the sub-advisor to the LS Opportunity Fund ("LSOFX"). Prospector Partners' investment approach aims to identify compelling long/short investment opportunities through a bottom-up stock selection process based upon in-depth analysis of business and financial fundamentals.
The LS Opportunity Fund strives to generate superior risk-adjusted returns through a fundamental long-short stock selection process. "Unlike many long-short equity funds, the portfolio managers of LSOFX have the experience that can only be gained by investing throughout multiple full market cycles," explains Dane Czaplicki, Director of Research at Long Short Advisors, LLC.
The LS Opportunity Fund offers an Institutional Class (LSOFX; $5,000 minimum initial investment). The Fund is available for purchase at various custodians including: Fidelity, Charles Schwab, Commonwealth and more.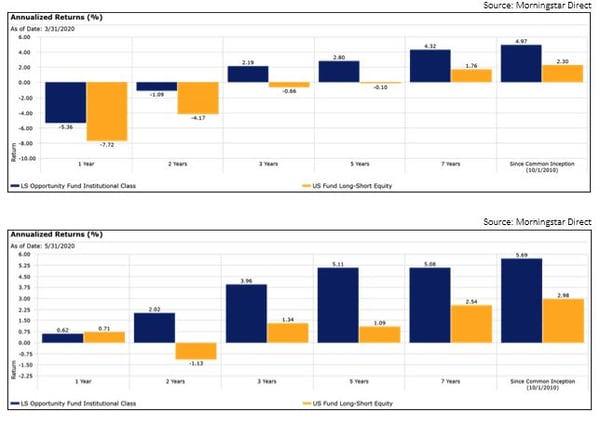 The performance data quoted represents past performance. Past performance does not guarantee future results. The investment return and principal value of an investment in the Fund will fluctuate so that an investor's shares, when redeemed, may be worth more or less than their original cost. Current performance of the Fund may be lower or higher than the performance quoted. The Fund's gross expense ratio is 3.13%.
About Long Short Advisors
Long Short Advisors, LLC is a Philadelphia, PA-based registered investment advisor that leverages its experience in finding undiscovered, capacity constrained managers with a long- term track record and a significant personal investment in their strategies. Founded by Matthew West, CIMA®, the firm's investment team has over 50 years in combined experience. To learn more, visit www.longshortadvisors.com.
About Prospector Partners
Prospector Partners, LLC is a Guilford, CT-based investment manager founded by John Gillespie in 1997 with the mission of delivering differentiated, consistent, and reliable performance to its invested partners. Over 23 years, Prospector has grown into a uniquely focused, institutionally built investment firm with a specialized approach to long/short equity investing. To learn more, visit www.prospectorpartners.com.
About Morningstar, Inc and the Star Rating System
The Morningstar Rating TM for funds, or "star rating", is calculated for managed products (including mutual funds, variable annuity and variable life subaccounts, exchange-traded funds, closed-end funds, and separate accounts) with at least a three-year history. Exchange-traded funds and open-ended mutual funds are considered a single population for comparative purposes. It is calculated based on a Morningstar Risk-Adjusted Return measure that accounts for variation in a managed product's monthly excess performance, placing more emphasis on downward variations and rewarding consistent performance. The Morningstar Rating does not include any adjustment for sales loads. The top 10% of products in each product category receive 5 stars, the next 22.5% receive 4 stars, the next 35% receive 3 stars, the next 22.5% receive 2 stars, and the bottom 10% receive 1 star. The Overall Morningstar Rating for a managed product is derived from a weighted average of the performance figures associated with its three-, five-, and 10-year (if applicable) Morningstar Rating metrics.
©2019 Morningstar. All Rights Reserved. The information contained herein: (1) is proprietary to Morningstar and/or its content providers; (2) may not be copied or distributed; and (3) is not warranted to be accurate, complete or timely. Neither Morningstar nor its content providers are responsible for any damages or losses arising from any use of this information. Past performance is no guarantee of future results.
Definitions: Sharpe Ratio uses the Fund's standard deviation and average excess return over the risk-free rate to determine reward per unit of risk. Value at Risk is a measure of the risk of loss for investments. It estimates how much a set of investments might lose, given normal market conditions, in a set time period such as a day. Sortino Ratio measures the risk-adjusted return of an investment asset, portfolio, or strategy. It is a modification of the Sharpe ratio but penalizes only those returns falling below a user-specified target or required rate of return.
10396619-UFD-6/10/2020
---
Read our latest White Paper:
Investing in Long Short - Why It's Important in Today's Environment