Investing in Long/Short – Analytical Rigor Pays Off
Barron's recently featured a piece – Picking a Long/Short Fund Isn't Easy, But It Can Be Profitable. Here's How. The article correctly pointed out some of the challenges of picking a long short investment but only mentioned three out of many strategies from which to choose. We at Long Short Advisors thought investors might like a bit deeper of an analysis on the heterogeneity of the long short space to help with a more complete due diligence review.

According to Morningstar there are 222 long short funds as of 05.31.2020. However, if you screen out for unique funds (i.e. avoiding multiple share classes of the same fund), using oldest share class only, this whittles the list to 88 unique funds. While not a perfect indicator, star rankings are highly sought after and followed by industry participants. As of 05.31.2020, there are nine five-star funds and 18 four-star funds for a grand total of 27 four- and five-star funds. While we have analyzed all of the funds, we thought we would focus on those rated 5 stars for this write up. As of 05.31.2020, there are nine five-star funds and 18 four-star funds for a grand total of 27 four- and five-star funds. [1] While we have analyzed all of the funds, we thought we would focus on those rated 5 stars for this write up
Being top of their game in Morningstar rankings is, as Barron's pointed out, where the similarities end.

Currently, the top-rated funds can be loosely split among fundamental value, fundamental growth and what we will call "esoteric", as a catch all name, for strategies that do not rely on fundamental stock analysis to implement their strategies. Value, Growth, or Esoteric does not make one better or worse than the other just different and perhaps a combination of them is best for client portfolios.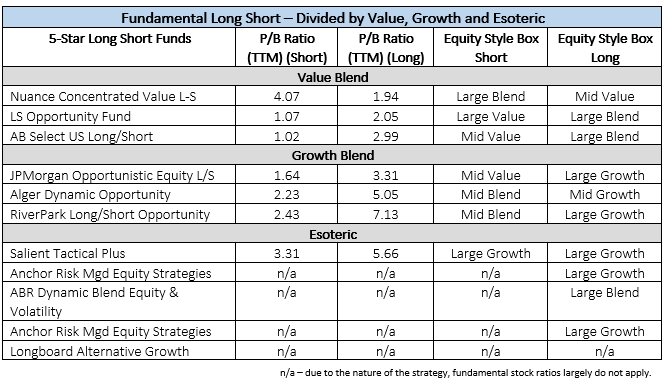 Perhaps One from Each Category? – Value, Growth and Esoteric
If only it was as simple as value, growth or other…. Not so fast. There are still significant differences. If one takes a moment to look at net exposures and underlying holdings, or even read further into their philosophies, there is reason to not use any one strategy as a standalone. Take a look at those strategies labeled as value. Nuance Concentrated Long/Short is net short (-15% short) with a target range of net exposure overtime between -25% and positive 100%. On the other hand, LS Opportunity and AB Select have a mid 50s net exposure currently but even that masks a different underlying story. AB Select is long 60% and short about 2%, whereas LS Opportunity has a short book at 23% - a significant difference.

Investors should have different expectations and be certain to ask themselves the right questions when evaluating and deciding on whether to incorporate a particular strategy in a client portfolio. All 4- and 5-star funds by definition have had top returns for the category but how those returns were generated can and do vary significantly.

Taking a step over to growth managers and the variation is apparent as well. Alger Dynamic is running the portfolio with a net exposure in the mid 30s. While JP Morgan Opportunistic L/S and RiverPark Long/Short Opportunity are recently in the mid 60s. And the differences don't end there, if you have the opportunity to read their marketing decks or speak with the managers, you will see they are great managers in their own right but come about constructing their portfolios quite differently.



And if there is difference within growth and value managers, one can only imagine the difference among the 4 managers labeled here as esoteric.
Salient Tactical – The fund is able to be up to 200% long when models are positive and go up to 100% short if models turn negative while also being able to hold up to 100% cash
Anchor Risk Managed – The Fund seeks to achieve its investment objective, utilizing a "fund of funds" structure, by allocating assets among various strategies based on the adviser's research and analysis regarding market trends. A market trend is the movement of a financial market in a particular direction over time.
ABR Dynamic – The Fund, using the combined output of several proprietary volatility models, the underlying index (The ABR Dynamic Blend Equity and Volatility Index Powered by WilshireSM) determines an unleveraged, long-only allocation to a blend of equity, volatility, and cash exposures each day. Some days it employs significant volatility exposure to seek to capture certain volatility movements, while on other days it utilizes significant equity exposure to seek to track rising equity markets.
Longboard Alternative Growth – The Fund will seek positive long-term capital appreciation through the use of a diversified alternative equity strategy developed by the Adviser. The Fund will systematically engage in long investing and short selling, which is designed to reduce the net exposure of the overall portfolio to general market movements.
Through our years of conversing with investors, preferred investment philosophies come in all shapes and sizes. There are plenty of fundamentalists that should steer clear of the Esoteric strategies but on the other hand there are plenty of investors that leave stock picking to the machines and quants, with a much greater desire for Esoteric strategies. The current top ranked funds offer something for everyone, but only upon deeper analysis.
Investor Flows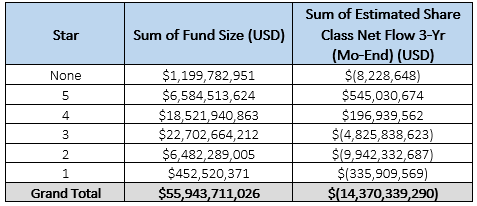 The Long Short universe, along with most active equity categories, has on average seen outflows from investors over the last three years. All is not lost for long short managers, as there has been a discerning eye among allocators that have been most closely analyzing the space. Perhaps surprisingly to some (not to us), non-mainstream boutique long/short strategies is where the action is, or should we say the positive action. The 4- and 5-star funds on average have seen nearly 1 Billion in inflows over the last three years, while the 1, 2- and 3-star funds have seen approximately 15 Billion in outflows. Some of the most storied institutional and massive funds (i.e. Diamond Hill, Boston Partners and AQR) were some of the hardest hit with outflows. On the inflow side, while some institutional leaders made up the top 20 list for inflows (Calamos, JP Morgan and Nuveen) the list was mainly populated by what we would call more boutique in nature managers. So, sharpen your pencils and do not overlook the best strategies simply because the large funds have had a misstep. Join your fellow analysts who have chosen to add to those top long short strategies. Now which of these strategies with still be top ranked as a 4- or 5-star fund 5 years from now? That is up to the analyst to decide.
For an ever deeper look into the entire long short space or for a private consultation regarding long short investing please email info@longshortadvisors.com to set up a time to speak and to gather a more detailed and customized analysis.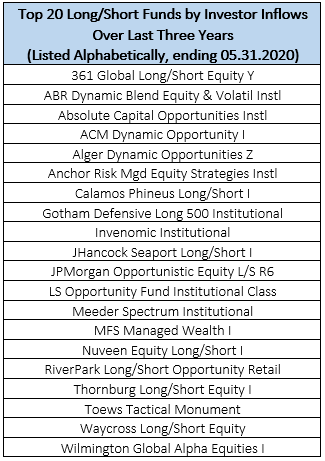 FOR FINANCIAL PROFESSIONAL USE ONLY
You should carefully consider the investment objectives, potential risks, management fees, and charges and expenses of the Fund before investing. The Fund's prospectus contains this and other information about the Fund, and should be read carefully before investing. You may obtain a current copy of the Fund's prospectus by calling 1.877.336.6763. The Fund is distributed by Unified Financial Securities, LLC.
Investment in shares of a long/short equity fund have the potential for significant risk and volatility. A short equity strategy can diminish returns in a rising market as well as having the potential for unlimited losses. These types of funds typically have a high portfolio turnover that could increase transaction costs and cause short-term capital gains to be realized.
Diversification does not ensure a profit or guarantee against loss.
TTM is defined as the numbers on the chart are trailing twelve months.
The performance data quoted represents past performance; past performance does not guarantee future results. The investment return and principal value of an investment in the Fund will fluctuate so that an investor's shares, when redeemed, may be worth more or less than their original cost. Current performance of the Fund may be lower or higher than the performance quoted. For performance current to the most recent month end, call 1-877-336-6763.
Long Short Advisors is registered as an investment adviser with the Securities and Exchange Commission. There is no affiliation between Ultimus Fund Distributors, LLC, Long Short Advisors, and the other firms references on this website.
Information contained herein does not constitute an offer to sell, or a solicitation of an offer to buy shares of the Fund, nor shall any shares be offered or a solicitation of an offer to buy shares of the Fund, nor shall any shares be offered or sold to any person in any jurisdiction in which such offer, solicitation, purchase, or sale would be unlawful under the securities laws of such jurisdiction.
This article also is not intended to provide specific individual advice including, without limitation, investment, financial, legal, accounting, or tax advice.
[1] Ones approach to methodology here can vary – Morningstar uses each share class that exists in the rankings and thus one fund with multiple share classes can have multiple rankings, largely driven by expense ratio (i.e. a 5-star institutional share class but a 3 star C share class. To capture the four- and five-star funds, we picked the cheapest share class now available. However, this did not always coincide with the oldest share class which gave us the longest track records to analyze. Assuming our audience will mainly choose the cheapest share class, we thought this most appropriate.
10442810-UFD-6/30/2020